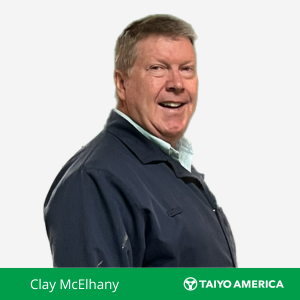 This week, Clay McElhany, Operations Manager from Taiyo America, discuss how he faced the challenges of the supply chain and got Taiyo America back to a full warehouse of raw materials and finished goods.
Dan Beaulieu: Hi Clay, as operations manager how were you affected by the pandemic?
Clay McElhany: The pandemic had a significant impact on the supply chain, making it difficult to obtain our raw materials and basic supply items. It also impacted our labor resource keeping employees from working.
Dan: Did you have people shortages and how did you handle those?
Clay: The impact on labor resources were managed by establishing safe distances in the work areas, wearing PPE like masks and gloves, and managing employees by temperature monitoring and keeping them at home if they had symptoms.
Dan: How about your raw materials, your supply chain management had to be very challenging, how did you handle those challenges?
Clay: We had to work with our suppliers in very creative ways to keep some raw materials coming in, requesting partial shipments, shipments via air, alternate suppliers, anything we could do to obtain raw materials.
Dan: How did you keep your warehouse full of what you needed to produce the product?
Clay: Our warehouse was fairly depleted at one point, and we had to work with our suppliers to eventually fill the warehouse back up. With constant communication and adjustments in order strategies we were able to work with our suppliers to catch back up.
Dan: Do you get raw materials from Japan? How did that work?
Clay: We were able to get raw materials from Japan, but it was difficult to secure shipping containers and to have Japan have our raw materials staged and ready for pick up by the carriers. This took a lot of meetings and creative thinking to get this to work.
Dan: How about shipping your finished product, what were the challenges with that and how did you handle them?
Clay: Most finished product shipments were not too difficult to do. There was a delay with domestic carriers, but we were able to get product to our customers with some extra time and patience. The most difficult issue was the ability to produce finished products with the low level of raw materials we had available.