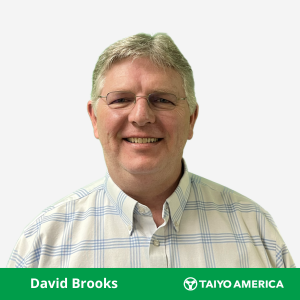 This week, David Brooks, Accounting Manager from Taiyo America, discuss the global economy in general.
Dan Beaulieu: As a Japanese-owned company how are you affected by the global economic situation?
David Brooks: Being a Japanese-owned company presents both positive and negative conditions economically for Taiyo America. A positive for Taiyo America is the ability to purchase raw materials using economy of scale, in that, Taiyo has many companies around the world that use many of the same raw materials, so we are able to arrange purchases on large scales that allows for a discount that we are able to pass on to the customer. On the negative, many of our raw materials are imported, Taiyo America is dependent upon a stable supply chain that keeps those raw materials flowing. During the bottleneck of the U.S. ports the lead time for delivery of raw materials increased significantly causing a revaluation of inventory levels and order quantities so that we could continue supplying our customers with quality products.
Dan: How about working with Europe are there any differences between them and the U.S.?
David: The main difference between customers in Europe and the United States is logistics and presence (time difference). We have addressed the presence in Europe by hiring a sales and technical staff that are able to be available to our customers' needs more quickly than in the past. Regarding the logistics issue, we have partnered with a distributor, Ventec, to warehouse our product so that customers may get their products more quickly than if it were sent from the United States.
Dan: What are the economical, and business advantages to producing your own products right there Carson City?
David: As mentioned earlier, Taiyo America is a privately owned subsidiary of Taiyo Holdings located in Japan, so by manufacturing products in Carson City allows for customers located in the United States to obtain their material more quickly than having to order from Japan. Further, this allows quality issues to be discovered and corrected quickly, and the ability to offer our customers the best technical assistance quickly.
Dan: Prices are going up for just about everything. How is this affecting you guys at Taiyo?
David: As with any company, prices of raw materials drive up the price of products produced. Taiyo America is addressing this cost driver by becoming more efficient in our production processes and analyzing and eliminating redundant administration costs so that we do not have to pass the increased costs on to the customer.