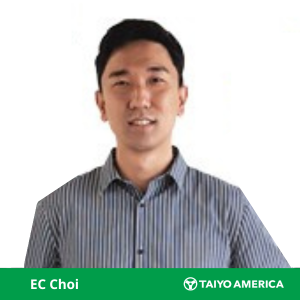 This week, EC Choi, IC Packaging Marketing Manager from Taiyo America, discuss what are some of the key technologies that OEMs are look for when they talk to Taiyo.
Dan Beaulieu: Let's talk about the OEMs our customers' customer how are they driving Taiyo technology?
EC Choi: OEMs keep driving us to improve the performance of the existing SR based on their technical roadmap. They sometimes propose the addition of new functions to the SR so that they can fulfill their new design. OEMs are also interested in Taiyo's capabilities aside from SR for PCBs, such as solutions for module-level process.
Dan: What products do the end customers want you to develop
EC: One of OEMs is requesting extremely High Dk SR and it helps reduce the patch size of the mmWave antenna module. As module level solutions, I am working with OEMs on conductive ink and protective coating for iPhone.
Dan: How do you get feedback from the OEMs, do you talk with them directly?
EC: I get feedback from OEMs via email, conference calls, and meetings in person. 3-way meetings including our direct customers is an efficient way to get further discussion.
Dan: What are some of the trends in technology they are asking Taiyo for.
EC: OEMs want to integrate two or more functions into one material. For example, they ask to add optical properties to conductive ink, or to reduce the WVTR of coating while maintaining flexibility. These technologies help OEMs secure M/S by lowering manufacturing costs and differentiated technologies.
Dan: Can you talk about the R&D work you are doing right now that we can expect to see soon?
EC: Recently, I am focusing on OLED module materials led by DuPont and Henkel such as dispensing type ink and MCL (Micro Coating Layer). I feel we need more trial and error to take their market.
Dan: Did the pandemic change anything in terms of technology demands from the OEMs?
EC: The pandemic has become a catalyst for accelerating the development of IT when it comes to volume and time frame, but OEMs have been working continuously with their long-term vision. The pandemic may have affected their roadmap as well, but I am not sensing drastic changes in technology linked to us at this point.