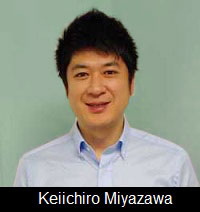 Taiyo America, Inc. has appointed Keiichiro (Kaye) Miyazawa to the position of new business development manager, effective January 25, 2019. He will be based at Taiyo America's headquarters in Carson City, Nevada, USA.
Kaye obtained a Master's degree of Science in Business Administration, majoring in Technology Management, from the University of Illinois in 2007, after graduating in 1999 from Ritsumeikan University in Japan with a Bachelor's degree in International Relations, and from the National Institute of Technology, Fukushima College in 1995 with an Associate's degree in Mechanical Engineering.
His experience and achievements in the business development, patent licensing and sales fields span 19 years in the Electronics/IT industry, and were established in Japan, the US, and abroad at NEC Corporation, NEC USA, Inc., Hewlett Packard Japan, and Dell EMC Japan.
"Miyazawa's past occupations make him the ideal candidate for Taiyo America's further expansion of product sales within the automotive, medical equipment and robotic printed circuit board markets in North America and Europe", states Tadahiko Hanada, Taiyo's current president and director. Hanada further states that, "Kaye's accomplishments will benefit Taiyo America, as well as the Taiyo Group companies in achieving worldwide growth."