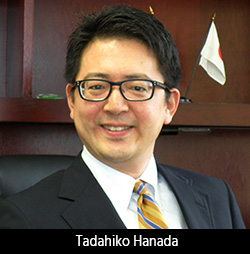 Taiyo America Inc.'s Director & COO Tadahiko Hanada has been promoted to the position of President and Director, effective June 6, 2016.
Mr. Hanada joined Taiyo Ink Mfg. Co. Ltd in January 2014 as General Manager leading the IC Packaging Material business, then secured the title of Director & COO of Taiyo America Inc. in July of 2015.
Among many of his aspiring goals, Mr. Hanada states, "Taiyo America's proven achievements as the industry leader in solder mask and hole fill materials will be a launching pad into new areas and products such as White Solder Mask for LED applications, Inkjet solder resist, flexible solder resist and Direct Imaging. Taiyo's future focus is to grow with the Automotive, Lighting, Wearable, IoT, and Prototyping industries."
About Taiyo America Inc.
Established over 25 years ago, Taiyo America Inc. is a subsidiary of Taiyo Holdings Co. Ltd, the world's leading manufacturer of specialty inks and solder masks for printed circuit boards. Taiyo offers conductive inks for manufacturing printed electronics, lighting & displays, and other applications.