Covering the World: Predictions for 2021!
by: John Fix
How happy is everyone that we can put 2020 in the rearview mirror and look forward to 2021? I know I am as thrilled as anyone. It's fun to read the various 2021 predictions, my personal favorite; digital retailing is going to grow (geez, don't go out on a limp with that prediction). They say being good at predictions is a skill that requires practice. I guess I need a lot more practice as I keep predicting my football team, the Rams, are going to win the Super Bowl. Wrong again but I like their chances in 2022, Go Rams!
We are fortunate to be part of the printed circuit board (PCB) industry that continues to innovate and is needed across so many industries. Some of the obvious predictions going forward are growth in 5G, Internet of Things (IoT), electric vehicles (EV), and cloud computing. For PCB suppliers these various growth segments have quite different requirements. Some require low loss and high-speed materials while others will be looking for high temperature resistance materials.
For 2021, we at Taiyo already made the promise for more new products. In 2020, we continued to see the expansion of inkjet solder mask and doubled the number of customers for inkjet solder mask. Coming in 2021, more colors of inkjet solder. Yes, I said it. We are working on some of the more popular solder mask colors but please let us know which colors are most important to you or what color would get you to invest in inkjet solder mask technology.
As we see more and more EV manufacturers entering the market place the need for a higher performing automotive solder mask is needed. Taiyo has always taken great pride in providing the leading technology for high performance solder mask from their AUS series of solder mask for high-end IC packaging to their AM series of solder mask for the automotive industry. This year we are blowing the lid off high temperature requirements; we are going to the extreme (200°C for 2,000 hours and -40 ↔ 200°C for 1,000 cycles). This will meet the needs of both traditional internal combustible engines (ICE) and EV temperature requirements. Keep your eyes out for our new extreme solder mask.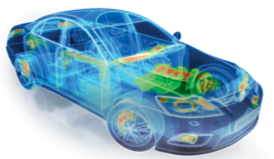 Lastly, in 2020 we introduced Taiyo's solution to thermal management with Thermo Cool 10.2W. We are currently working with customers and OEMs to evaluate this new product and we have already received request for multiple colors. So, expect to see a green and black version in 2021.
As always, please be safe and we look forward to seeing you in 2021. Don't forget to follow us on LinkedIn and subscribe to our YouTube channel. Lastly, be sure to join us for the Virtual APEX on March 8-12, 2021 at 8AM-5PM EST.