July 2013: Stevenage Circuits is pleased to announce that they have selected Taiyo's IJR-4000 FW100 for use with their new Orbotech Sprint 120 inkjet printer. The ink is designed specifically for use with this equipment and specifically for flexible circuits.
Technical Director Tim Gee says, "This is a major step forward for Stevenage Circuits as it has increased our throughput and allows us to print extremely fine features. The adhesion properties of the ink are first class. Investing in technology like this will help us to maintain our position as the number one UK manufacturer of complex flexible, flex-rigid, and RF PCBs."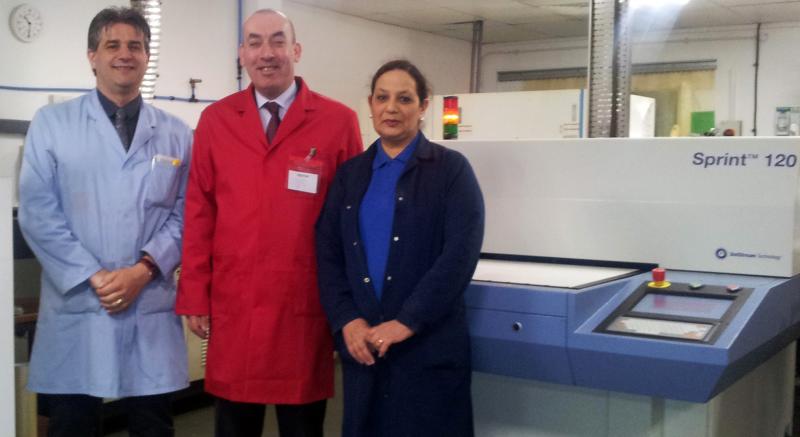 Pictured from left to right: Tim Gee (Technical Director), Liam Lynch (Lamar Group Ltd.) and Dolly Grewal (Operator)
John Fix, Manager & Director of Sales and Marketing for Taiyo America says that Stevenage Circuits is a prime example of pushing new technology in manufacturing. They were the first European customer to test the new flexible inkjet legend and now they are going to production.
About Stevenage Circuits                                               
Stevenage Circuits specialises in the manufacture of flex, flex rigid and high layer count rigid PCBs for military, aerospace, space and medical applications. For more information go to www.stevenagecircuits.co.uk.